My wonderful customers are the reason I'm so passionate about my food
I'll do everything I can to make sure you're a satisfied customer, too!
"Best food I've ever had in my life. So special. A whole lot of love wrapped in a banana leaf." – Taylor, Venice

"Brother you're the most amazing chef I've ever tasted. You are a true artist and talent." – Billie 'Docu Filmmaker', Santa Monica

"Thank You So Much!!! That was so delicious. I cannot express how delicious your food is. Thank you mucho señor :)" – Nicole B.'makeup artist', Santa Monica

"Steve, I had your duck Penyet on Sunday. after potluck. I picked them up from Aaron, it was so good!! I had two of them. Yes the 'Gulai kambing' was amazing! – Tisno O., Surabuya Java

"Thats what Im talking about, your 'Ayam Betutu' so Yummm feel like I was eating in Bali" – Desa N., 'opare', Bali

"Wow, Insane!!!! Beautifull taste, solid heat too. Love it. Piece of art. Thank you buddy." – Chris B., photographer, Santa Monica

"So fucking good it's ridiculous." – Dr Joel, Venice

"My Spirits were low until I had that wonderful bananaleaf wrap you made me." – Robin M. 'Artist', Santa Monica

"Steve, my grandmother said the Duck Penyet is awesome, two thumbs up! we ate until we snorted our last mucus from our noses. You are a great cook, Thanks"! – Aaron O., SMU student, Java

"Loved it! I shouldn't go so long between your Indo Treasures. Not good for my health." – Pete L., radio Dj, author

"Oh great! now I'm supposed to go back to eating regular food after eating this?" – Beyond O2 water store, Santa Monica

"Yummy Yumola" – Sherrie S. Yoga teacher, Santa Monica

"If I looked up 'exotic' in the dictionary, I bet I'd see a photo of your food. It's really incredible. Thank you!" – Jessica P., Santa Monica

"Like having an orgasm in your mouth." – Emma, Santa Monica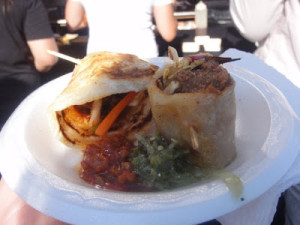 "As a Singaporean with a Malaysian father and a mother that cooks killer Southeast Asian food, my standards for this cuisine is pretty darn high. I have to say that LAsian Kitchen impressed. The rendang had the flavors, spice and consistency that I was familiar with. I appreciated the use of roti (which is common in Singaporean/Malaysian/Indian cuisine) as a wrap instead of something less authentic such as lettuce cups or tortilla. The roti had a nicely fried exterior and held the rendang together while absorbing the juices."
steph@'stuffycheaks' blog.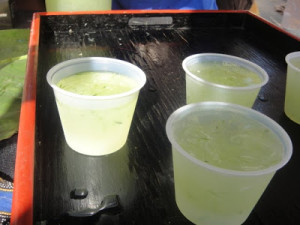 2010 LA Street Food Fest Competition, 2nd place runner up -'best traditional'. .